From dream to impact — that's the journey we're on at Spiral, and this month, we've achieved another milestone that underscores our commitment to inspire change. With immense pride and joy, we announce that Spiral has won the Best in Show Award at the 2023 CUNA Operations & Member Experience Council and CUNA Technology Council Conference! 🎉🥇
This CUNA Conference stands as a beacon for credit union innovation and technology change and hosts more than 600 executives and decision-makers from credit unions nationwide.
Winning the Best in Show out of 22 pioneering companies during its annual Speed Rounds is more than an award — it's an acknowledgment of our commitment to excellence and our innovative approach to reshaping the credit union landscape.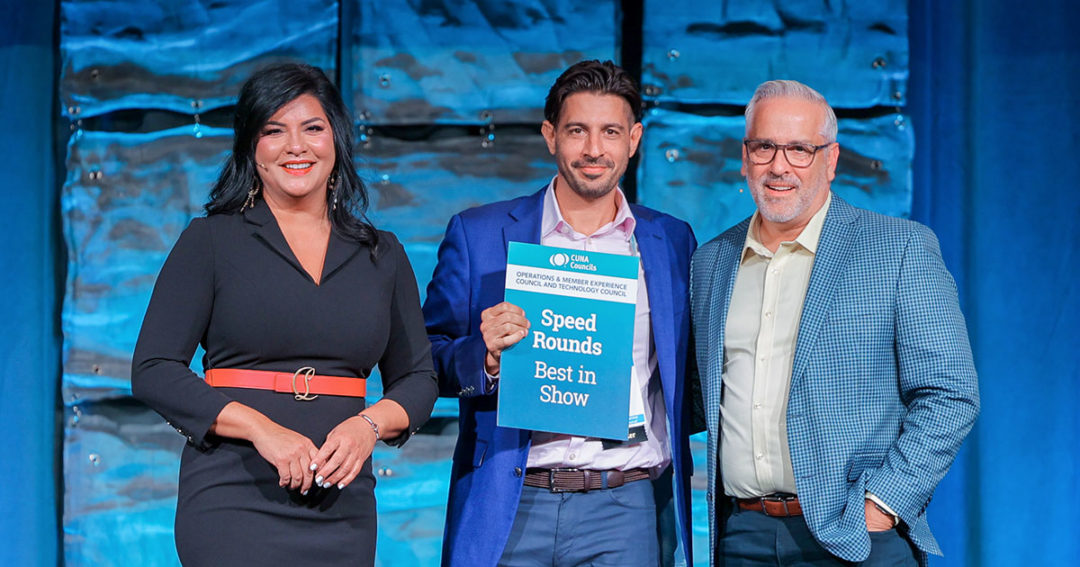 Our Impact-as-a-Service™ platform is designed to empower credit unions and other financial institutions to grow deposits, enhance digital engagement, and attract new members, all while boosting community and environmental impact. The beauty of Spiral lies in its simplicity — enabling members to round up their purchases for good, make donations to their preferred charities, and visually see the positive ripple effects on the community. But it's not just about individual contributions. Driven by our "People Helping People" mission, we are also committed to helping credit unions and people strengthen their local communities. With Spiral, credit unions can also easily give back to their communities and amplify their impact by matching donations or initiating fundraisers.

Earning the Best in Show accolade is a testament to the dedication, innovation, and passion of every member of our team. We continue to aim high, striving to provide transformative solutions that benefit credit unions, their members, and the larger community. We believe that when individuals and institutions come together, incredible change is not only possible but inevitable.
A heartfelt thank you to CUNA and all the attendees for recognizing our efforts and bestowing upon us this prestigious honor. We want to thank everyone who has supported us on this journey – from our investors, partners, and customers to our ever-growing Spiral community. Your belief in our vision propels us forward, encourages us to innovate, and fuels our passion.
Stay connected as we continue to push boundaries, foster collaborations, and redefine the credit union and banking worlds.
Sincerely,
The Spiral Team
Team Spiral
We make it simple for banks and financial institutions to drive positive change, amplify their community impact, and empower millions of customers to contribute to a better world. Stay ahead of the curve, discover how impact can drive engagement and profits, and get ready to rethink finance.